They are our friends and our allies, they came through Khiasma and they have gone on to produce beautiful things elsewhere. Here is what they have all been up to lately.
Monsieur Toussaint : traduction and translation chronicles from the The Living & The Dead Ensemble with Louis Henderson and Olivier Marboeuf
After collaboratively translating and interpreting Edouard Glissant's "Monsieur Toussaint" into Haitian Creole, The Living & The Dead Ensemble (Mackenson Bijou, Rossi Jacques Casimir, Zakh Turin, James Désiris, James Fleurissaint, Dieuvela Chérestal, Cynthia Maignan, Léonard Jean-Baptiste, Olivier Marboeuf et Louis Henderson) celebrated Haitian independence day on 15th December at the cemetery of Port-au-Prince. Toussaint Louverture's final days set with the sun, leaving behind as his witnesses Dessalines and Granville, to rap the story to the sounds of the drums. It was one of the highlights of the Ghetto Biennale and the words came to life, "making the dead partners of the struggle"
This project will lead to the production of a film, which we will be discussing in April at Khiasma with Louis Henderson – for whom Khiasma exhibited his first solo exhibition – "Kinesis", in 2016. But before we get to that, you can take a look at the first images and prints from the project in this article featured in the Freize review.
… and the latest on Sunstone, coming soon to Lilas
As you may have read in our April 2017 edition, "Sunstone" is the first film born out of the first "ciné-conversation" between Filipa César and Louis Henderson, two artists who Khiasma regulars may have come across during the 2015 "properties of the ground" exhibit. Following three exhibitions (Contour Biennale in Belgium, Gasworks in London and the Temporary Gallery in Cologne), featuring screenings of the film together with the "Op-film: An Archaeology of Optics" installation, the now completed film will be screening at the International Film Festival Rotterdam (IFFR). The film is off to a promising start, it was recently branded one of the best films of the year by Erika Balsom, a researcher and professor of film at the Artforum.
Sunstone, an « op-film » (or optic film), leads us from the lighthouse to the algorithm, from optical navigation systems to those of satellite navigation, from a "westernisation" of the world endorsed by the early technological advancements in the field of navigation to a panopticon cartography that gives rise to new forms of surveillance and control.
In the mean time, as we wait for the opening of Op-Film: an archeology of optics at Khiasma in late March 2018 (an exhibition that will include a diverse program of events in several places around Paris)… French audiences need not worry, as an extract of the film is still available on the Ibraaz online review.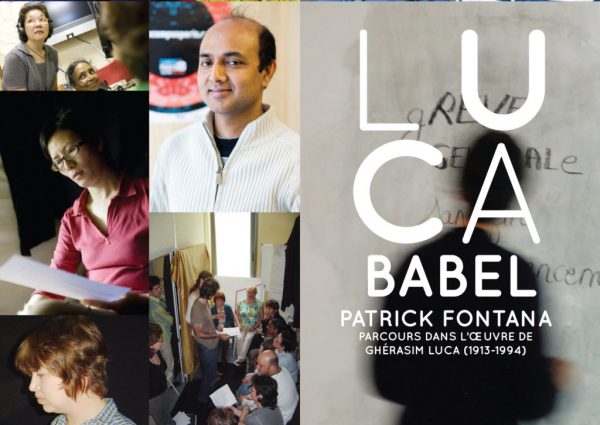 Be one with the word, be one with the world: Luca Babel finally available in full on r22 Tout-Monde
Released in 2014, Lucas Babel. A journey through the works of Ghérasim Luca, was named firm favourite by the Charles Cros Academy. Some of the fruits of the "reading(s) from mouth(s)" workshop, an initiative lead by artist Partick Fontana in collaboration with a group of people learning "French as a foreign language" with the organisation Emmaüs Paris, can be heard through this record. Born out of a long-term collaboration between Patrick Fontana, Khiasma, Emmaüs and a number of other partners, Luca Babel stands as the memory of ten years of rich and unexpected collaboration and serves as wonderful platform for learning a French language.
Ghérasim Luca's sound poetry has revealed itself to be an incredible tool for learning French. It was introduced to the workshop participants as an alternative way of learning French and taking the language head on. It has inspired in the women and the men who run the workshops, a desire to appropriate the words. It brings the language together and then scatters it so as to deliberately disperse all meaning. It seizes the words, through re-composition and deconstruction to (later belch them out). Eructing is a strong sign of life: hold onto the word, spit out its meaning, spit out its sounds.
— Patrick Fontana
Luca Bable. A journey through the work of Ghérasim Luca (1913-1994) is available in full on r22 Tout-Monde.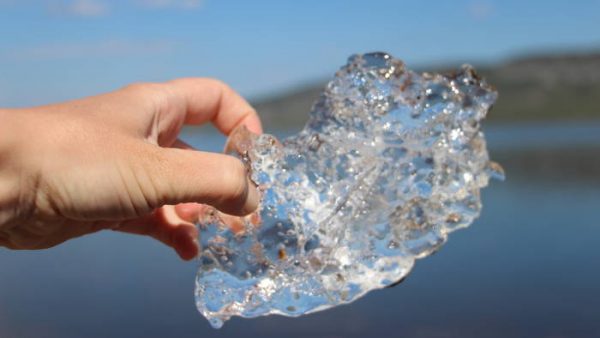 Julien Creuzet, Violaine Lochu : like echos of Relectures 17 – this month in and around Paris.
Brought together for the 17th edition of the Relectures festival at Khiasma, the artists and performers Julien Creuzet and Violaine Lochu will take pride of place at several exhibitions this month, in Ile-de-France. Julien Creuzet will be exhibiting at two twin exhibitions, one at the Ricard Company Foundation and one at Bétonsalon, opening respectively on 23rd and 24th January. The two exhibitions are named after his sung poems : « Toute la distance de la mer, pour que les filaments à huile des mancenilliers nous arrêtent les battements de cœur. – La pluie a rendu cela possible (…) », at the Ricard company Foundation and « La pluie a rendu cela possible depuis le morne en colère, la montagne est restée silencieuse. Des impacts de la guerre, des gouttes missile. Après tout cela, peut-être que le volcan protestera à son tour. – Toute la distance de la mer (…) » at Bétonsalon. A poetic writing and singing process that he discussed in an interview with Olivier Marboeuf for r22 Tout-Monde.


Just a few days later, it will be Violaines Lochu's turn. Her first solo exhibition- "Hypnorama" will be on display at the Chanot de Clamart centre of contemporary arts from 27th January. Following a large number of residencies and performances in France and elsewhere, the exhibition-program "Hyporamana", will be as much a reflection on the past as an opening towards new paths. Violaine will be joined by artist Guillaume Constantin in the spatial installation of these projects, as well as a number of musicians and theorists who will be joining her during the performances.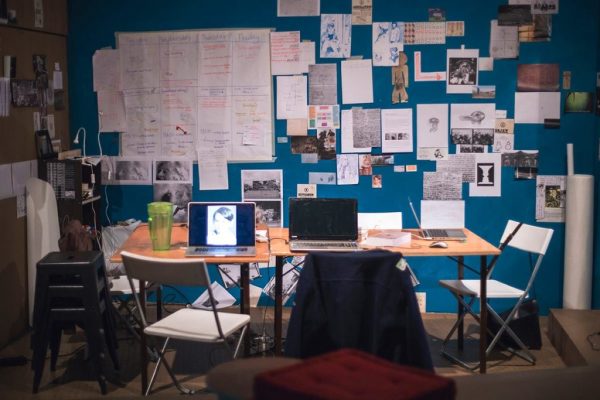 Animation Research Group and Ismaïl Bahri on the Warehouse platform
TheWarehouse curatorial platform was first initiated in 2017 by super-filme and flatness  in – an initiative that explores archival techniques and digital forms of friction. On this platform you will be able to find essays, documents, interviews and artist profiles.
You can also find a publication from the Animation Research Group collective about Paul Otelt's Mundaneum and the vast questions around animation. Look through this article, together with a video produced during their residency at Khiasma Space in November 2017.
The r22 has also kept onto a trace of a discussion about this residency.


And as if that was not enough, the above clip also contains an interview with Ismaïl Bahri by Pierre Schwarzer, about his film "Foyer", which will be screened on 25th January at the Selma Feriani gallery in Sidi Bon Saïd, Tunisia. Foyer will also be screening on 29th January at Khiasma for the 31st edition of "Phantom Mondays", so it is the perfect moment to plunge yourself back into his works. For now, we know that we follow in his footsteps on the island of Ouessant. But for the rest, you will need to come and see for yourself from 7.30 pm. As always, the event will be free and a meal will be shared- so bring along your best dishes!
Corinne Dardé, Keep Calm at Garde-Chasse cinema
Worry not, you do not have travel to the four corners of the globe to see Khiasma's friends and allies: This January come and discover "Keep Calm" a film by Corrnine Dardé (a "lilasienne" cineaste whose work we recently exhibited at Khiasma) right here in Lilas at the Garde-Chasse Theatre-Cinema on 26th January at 7.30pm. "Keep Calm" is a documentary that retraces a project by Michel Schweizer, which was on show as part of the Rencontres chorégraphiques internationales at Seine-Saint-Denis in June 2017 at Garde-Chasse.
After several workshops with the choreographer, the group of nineteen children were brought together for a performance in front of adult audience. During this face-to-face, the tribe of children explored each of their positions in and relations to the world around them. These discussions were nourished by the powerful thoughts and reflections that came out of their interactions with the adult audience.
François Daireaux & Ravi Agarwal at the Gallery Space, New Delhi
If you find yourself in New Dehli before 13th January, you will have the opportunity to discover the works of François Daireaux, a regular at the 15 Chassagnolle road (where he exhibition "Sudden, a subtle movement in the natural order of things" in 2015) alongside Ravi Agarwal, a militant ecologist, engineer and artist. The two protagonists will be interrogating the relationship between the body and the machine and the affects that globalisation has had on humans, work and the environment.
Frank Smith in Uruguay and New York 
During the month of December, the Steven Kasher gallery exhibited "Welcome to Camp America, Inside Guantánamo Bay", a solo exhibition by Debi Cornwall. If you had the chance to go, you will have heard, in the disturbing atmosphere of this investigation into the American base in Cuba, a sound piece by Frank Smith, a writer who did a residency here at Khiasma in 2015 with the Pierrefitte Archives.
If you missed this, you will have to go to Uraguay to see his Film "The Impossible" at Este Arte Space. And if these events seem a bit far, you can always discover (or rediscover) his work on r22 Tout-monde.


«Le conte permet de jouer une nouvelle réalité» : SMITH, invitée de Marie Richeux sur France Culture
Fin novembre, SMITH et Matthieu Barbin présentaient TRAUM (Le Paradoxe de V.), pièce chorégraphique produite par Khiasma et extension du film TRAUM, réalisé en 2016. Alors que certaines de ses oeuvres sont actuellement présentées dans l'exposition «La respiration des yeux dans le cadre» au Cultuurcentrum de Bruges, SMITH était l'invitée il y a quelques jours de Marie Richeux sur France Culture.