Articles liés
Artistes
Currently resident
They are our friends and allies, they came through Khiasma and carry on making interesting work elsewhere. Here's what they have been up to lately.
Rester. Étranger. and Violaine Lochu at Nanterre
« Sense is transformation, fear is everything staying the same». The words are open, to come and meet the Rester. Étranger collective at the Terrasse in Nanterre. The exhibition 1968/2018, des métamorphoses à l'œuvre will be opening on the 16th March, and giving its echo to two important moments of social and cultural transformation. Resident at Khiasma since 2015, the collective Rester.Etranger lead by Barbara Manzetti with Abdellah Ismail, Hassan Abdallah, Hussein Abdallah, Abdulaziz Abdulkarim, Omar Haruone Aboubakr, Masri Omar, Barış Yarsel, Héloïse Pierre-Emmanuel, Hélène Iratchet, Chloé Schmidt, Bartolomeo Terrade and the children Eva et Lester will be producing a permanently in motion piece, titled Rester. Etranger, mes amis m'adorent for the entire duration of the exhibition, which will be on show in the window display of La Terrasse, the main room and the town.
And if you decide that the opening is the day not to miss, you can will get to see « SHOUT! », a performance by Violaine Lochu starting at 7pm on 16th March !
Listen to Rester. Étranger. on r22 Tout-monde
Ana Vaz ici, near and far
While the formal calendar might say that her  residency at Khiasma is over, she continues to defy the horizon. While the third episode of « The Voyage Out Radio Series: 2222 ∞ 2022« , created with Nuno da Luz, Ayami Awazuhara and Hiroatsu Suzuki continues to resonate on r22 Tout-monde and in the Jeu de Paume's virtual exhibition  À propos du Chthulucène et de ses espèces camarades, Ana Vaz continues to survey worlds in transformation. For more on her work you can find a catalogue featuring a conversation between the artist and Olivier Marboeuf published by the Gulbenkian foundation, published on the occasion of the Talismans exhibition, opening 9th March. A dialogue revolving around a cinema of shadows, in relation and incarnated, a multiple version cinema, like as many talismans.
And with that good news comes more, as we have the pleasure to announce that Ana will be at the Cinéma du Réel festival with her premiere of Olhe Bem as Montanhas in the international short film competition. The film is an interlacing of two places, far from one another, the Nord-Pas-de-Calais (France) and the Brasilian state of Minas Gerais, where three centuries of mining extraction have left very different marks on the local environments and memory.
And if you are already thinking about a summer trip Corsica,  Oletta arts center is where you need to be, for a taste of what is to come at her exhibition at Espace Khiasma : The Voyage Out.
Listen to Ana Vaz on r22 Tout-monde 
Louis Henderson & Filipa César
Get your diaries out! The upcoming month is going to be dense for Louis Henderson and Filipa César, who will be opening on 28th March, with « Op-film: An archeology of optics », the next exhibition at Khiasma. While an ensemble of artefacts and films explore the history of optical technologies of military and colonial design, Louis Henderson and Filipa César will prolong their investigations in different places in Paris.
Starting with the Gulbenkian foundation, who will be hosting the duo on 26 March at 7pm for a conference on the subject. A warm up for the 29th and 30th March, where we will be meeting up at La Colonie, for an experimental séminar, « Black Lens », an interrogation into current visible géolocalisation technologies, which will attempt to trace the contour of minority ecologies aimed at protecting and sharing knowledge. An extension of the « Op-film » exhibition with, amongst others, Onyeka Igwe, Jephthé Carmil, Erika Balsom, Margarida Mendes and Rachel O'Reilly.
Alongside this, the Beaux-Arts de Paris will be hosting Louis Henderson on 5th March, from 4pm in the Murier amphi-theatre, for a presentation of his work. And as for Filipa César, she will also be presenting at the Cinema du Réel with Ana Vaz, for the French premiere of her film Spell Reel, on 27th March in the cinéma 2 of the Pompidou Center. A projection followed by a discussion with Olivier Marboeuf, director of Khiasma,  and a reading by the artist.
Mawena Yehouessi and Julien Creuzet at Bétonsalon
« Upon invi­ta­tion from Julien Creuzet to maybe put forward a backwashed echo of his work and his words, I wanted to initiate a cycle of readings, conver­sa­tions and per­for­man­ces which could, each in their own way, come and pass on/dilute this voice : There are stories of water between us», exhales the voice of Mawena Yehouessi. Stepped in, as Julien Creuzet, at the  Relectures festival,  an annuel gathering around literature outside of books at Khiasma, Mawena Yehouessi will continue throughout the course of the month to put the solo exhibition of the latter into perspective : La pluie a rendu cela pos­si­ble depuis le morne en colère, la mon­ta­gne est restée silen­cieuse. Des impacts de la guerre, des gout­tes mis­sile. Après tout cela, peut-être que le volcan pro­tes­tera à son tour. – Toute la dis­tance de la mer (…). Find the programme here: http://www.betonsalon.net/spip.php?article770
Listen to Julien Creuzet and Mawena Yehouessi on r22 Tout-monde
D' de Kabal, hip hop Opera at the MC93
With our lasting memories of his warm and incisive concert at the closing party last June at Khiasma, we are delighted to be seeing him again, this time at MC93 in Bobigny for the premiere of Orestie. Through this opera, D' de Kabal and Arnaud Churin will be reinventing through Hip-Hop culture one of the oldest myths of Greek antiquity, highlighting the play's resonance in the present day: the place of conflict in society and the birth of democratic justice.


Lotte Arndt in May Revue
Last october, the May revue published its 18th edition featuring an article by Lotte Arndt on Alejandra Riera's film, Enquête sur le/notre dehors. Adjacent to a printed publication, this film is a response to an initial demand to overcome the stigmatisation of an area, called Fontbarlettes on the edge of  the town of Valence (France). Lotte delivers a precise analysis, interrogating the ways in which artists exhume gestures and practices rendered invisible by dominant representations. A narration from between the cracks of the concrete to read here : http://www.mayrevue.com/une-image-que-lon-puisse-habiter/
You can listen to Lotte Arndt on r22 Tout-monde, here : https://r22.fr/auteur/lotte-arndt/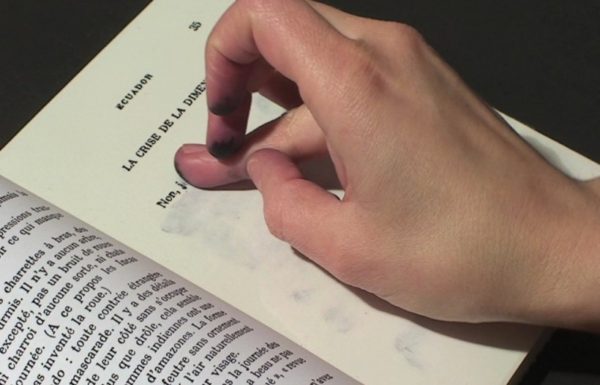 A solo exhibition by Estefania Penafiel Loaiza at Orthez 
Estefanía Peñafiel Loaiza's photographs, videos and installations — presented at Khiasma as part the Les propriétés du sol exhibition in 2015 and Excusez-moi de vous avoir dérangés in 2016 — distinguish themselves by a plastic vocabulary which borrows to stammer, to the transfer of matter, to erasure and repetition. Open from 2nd March at the Image/Imatge arts centre, the exhibition errements invites one to drift as much as it invites one to get lost. To get into the swing of things, you can listen to her Lundi de Phantomr recorded in November 2016 at Espace Khiasma on r22 Tout-monde.


A conference-diaporama by Simon Quéheillard to see and see again 
On 10th November 2017, Simon Quéheillard, exhibited at Khiasma as early as 2012, was the guest of Cinémas 93 for the premiere of his film De commencements en commencements (Spectre Production, 2016) followed by the slideshow lecture Au commencement était le coup de bâton / Burlesque, violence et empathie. Here it is online !
The slideshow conference, from the film De commencements en commencements, is the outcome of an ongoing research. The coup de bâton refers to the English word « slapstick », the other name for burlesque cinema. A genre of comedy that implicates a sort of volontarily exagerated physical violence. In the US, it is also referred to as Knockabout Comedy, meaning mistreated, brutalized. This research, at the intersection of social history and cinema, aims to outline what a comedy of mistreatment could be defined as, and the function of laughter in social bullying.
Listen to Simon Quéheillard on the r22 Tout-monde
Urbanoscope, a collective exhibition in Marseille with Christian Barani and Emmanuel Adely 
Historic allies of Khiasma and old-timers of the Relectures festival, video artist Christian Barani  and writer Emmanuel Adely, on the 19th April, will be getting together to present their exhibition Urbanoscope  (16 mars – 28 avril), a hommage to the unknown, unrecognized man… A hommage to the discretion, to the engagement and to the erasure behind the work. What work? A town… almost a world. Chandigarh. Built by Pierre Jeanneret over  fifteen years. A meeting to be had at Art-Cade in Marseille.
Sonic foliage from Les Lilas to Berlin
From 23th of March to 6th of May, Savvy will host We Have Delivered Ourselves From The Tonal – an exhibition of, with, towards, on Julius Eastman with a program of performances, concerts and lectures that deliberate around concepts beyond the predominantly Western musicological format of the tonal or harmonic. The project looks at the work of the African American composer, musician and performer beyond the framework of what is today understood as minimalist music, within a larger, always gross and ever-growing understanding of it—i.e. conceptually and geo-contextually. Together with musicians, visual artists, researchers and archivers we aim to explore a non-linear genealogy of Eastman's practice and his cultural, political and social weight, and situate his work within a broader rhizomatic relation of musical epistemologies and practices.
An exhibition that will find one of its many echoes on 29th of March at Mk2 Beaubourg with a screening of The Third Part of the Third Measure, an audiovisual composition directed by The Otholith Group based on the work of Julius Eastman. A great programme to discover in anticipation of the Savvy Funk antenna on r22 Tout-monde !
At Frac Nord-Pas-de-Calais, an exposition by Robert Schlicht & Romana Schmalisch
Following All The Best Labour Power Plant, an audiovisual stage piece produced by Khiasma in 2016, Robert Schlicht & Romana Schmalisch will be presenting Titre de travail, an exhibition at Frac Grand Large, part of this year's programme based on the theme of « Work ». The exhibition will present their new film installation, created in partnership with Spectre Productions and Pictanovo, as part of their residency with Château Coquelle and Nord-Pas de Calais – Site de Dunkerque arts school. A new exploration into workplace learning processes , open until 26 August 2018
L'Autre Musique, 16 March at the Cube in Issy-Les-Moulineaux
They presented their first radio discussion, l'Autre Émission, at Khiasma on 2 February, and you can see  l'Autre Musique again at Issy-les-Moulineaux for a series of in-situ performances, of live field recordings, giant cornemuses, sonorous spinning tops or interactive scores. This evening of performances and concerts will follow on from the « Partitions » (Scores) seminar-workshop, which put into question the notion of scores in relation to new practices in music and in sound and, more generally, in opening up to all forms of contemporary creation.
A first rich and out of the ordinary event with Octave Courtin, Jean-Charles François, Emmanuelle Gibello, Kwangrae Kim, Frédéric Mathevet, Hélène Singer, Nicolas Sidoroff, Alexandra Spence.
Listen to  l'Autre Musique on r22 Tout-monde