Artistes
Currently resident
They are our friends and allies, they came through Khiasma and carry on making interesting work elsewhere. Here's what they have been up to lately.
Estefania Peñafiel Loaiza and Julien Prévieux at the Géo-Charles museum (Grenoble)
As of the 9th February, for a period of one year, Estefania Peñafiel Loaiza — whose work was exhibited at Khiasma as part of the exhibits "Les propriétés du sol" in 2015 and "Excusez-moi de vous avoir dérangés"  in 2016 — and Julien Prévieux — "Mandrake a disparu" in 2013 — will be reunited once again for a collective exhibition around the theme of the representation of work in art.
Their works will be displayed alongside other contemporary artists, in contrast with the modern and contemporary art collections and archives of the Geo-Charles Museum; collections and archives from the Museum of Viscose: objects, tools, machines, photos and documentation and posters in collaboration with the Graphic Design Centre. For more information click here. 


Marie Preston in residence at Synesthésie
Whilst the R22 Tout-Monde team creates and cobbles together sounds and recordings with Synesthésie and a group of high school students from lycée Suger in Saint-Denis, Marie Preston is continuing her pedagogic experimentations in partnership with the arts centre, also based in Saint-Denis, north of Paris. An interview with the artist conducted by this same group of students will soon be available on r22 Tout-monde, but in the meantime you can listen to Marie Preston in discussion with Carine Dejean-Drejou and Hélène Cœur on the subject of collaborative arts projects. An important and necessary moment to reflect upon and put into perspective interventions in socio-cultural establishments and schools.


For more on this subject, you can find a film by Rafael Medeiros on the Atlas Sensible – produced during Marie Preston's « Territoires et expériences : des pratiques artistiques collaboratives » workshop at University Paris 8 – produced with a group residents from the Fougères area. To see the film, click here
ExposerPublier Double Trouble, with Marianne Mispelaëre, "La Vitrine: Format à deux" at Frac Île-de-France (Paris)
Over the last few months, the artist collective ExposerPublier has been working with Khiasma, regularly transforming its entrance room into a dynamic and adaptable documentation space, bearing witness to the space's life and activity. Before you see them here in Lilas, you can find their work from 7th February to 4th March in the display window of the Plateau (Frac Île-de-France branch), alongside Marianne Mispelaëre. Exhibition opening on the 7th from 7pm !
A new film by Louis Henderson on show until 1st April in Berlin 
The "Untie to Tie : On Riots and Resistance" exhibition, currently on at the IFA Gallery (Institut Für Auslandsbeziehungen), exploring issues around riot and protest, is currently screening Louis Henderson's latest film, Evidence of Things Unseen but Heard. The film draws a relation between technologies of state surveillance against black communities in Bristol, the rise of sound system culture and the individual sound of this town. Shot around St Pauls neighbourhood, reflecting on the history of Bristol which heavily rests on plantation labour and slavery, Henderson stitches a sonic archaeology through archival photographs of St Pauls carnival and the direct aftermath of the 1980 riots.
A film to discover alongside Riot by John Akomfrah and They Been Jealous, the last film to date from the Karrabing Collective — of which one of the founding members, anthropologist Elizabeth Povinelli, will be coming to Khiasma in March for an evening of discussion. More information coming soon!
Listen to John Akomfrah and Louis Henderson on r22 Tout-monde : 


Support Jef Klak ! 
On Saturday 10th February, La Générale will be hosting »La Fête à Klak« , in support of the Jef Klak review, with balfolk, concerts and other entertainment from 7pm onwards ! "Because it is cold outside and the 'ZADs' left us feeling restless"
Because we left you tireless and rapturous after the last Fête à Klak in May 2017 at the Parole Errante,
Because we wanted to celebrate with you and share the crazy adventure that has been "Course à Pied", the next edition currently under preparation…
La Générale and Jef Klak invites you to the second edition of the legendary Fête à Klak!
While in Notre-Dame-des-Landes people are jumping for joy, here we will dance like crazy for all the 'ZADs' and for our future and very promising new-born, "Course à pied".
Line-up for the evening:
19h – Discussion-debate around ZAD
20h30 – NosTRADamuse – bal folk
22h – Skin and Wire – post-punk folk
23h30 – En Attendant Ana – Lo-fi garage pop
Entrance is free and all proceeds will go towards the review.
You can listen to Jeff Klak here on r22
An interview with Patrick Fontana
Following last month's release on r22 of Luca Babel, an album born out of the Lecture(s) de Bouche workshop lead by Patrick Fontana, Olivier Mouginot, a PhD student of French as a foreign language and world languages, interviewed Fontana about his work… You can find the interview here, and why not listen to Patrick Fontana's sound recordings whilst you read?
And as for Spectre's films, two big moments for Martin Le Chevallier and Fabrizio Terranova
Since the end of the 1990's artist and director,Martin Le Chevallier 's work has been centred around critical inquiry into contemporary myths and ideologies. From the 6th to the 11th February, Nanterre-Amadiers Theatre will be showcasing an ensemble of his productions, films and sound-pieces!
In other news, "Donna Haraway : Story Telling For Earthly Survival ", A film by Fabrizo Terranova about the American philosopher, continues it's world tour. Amongst the numerous stopovers along the way, a particularly significant one will be taking place in Lausanne, as part of a two day, the 7th and 8th February with Isabelle Stengers.
You can listen to Fabrizo Terranova on r22 here :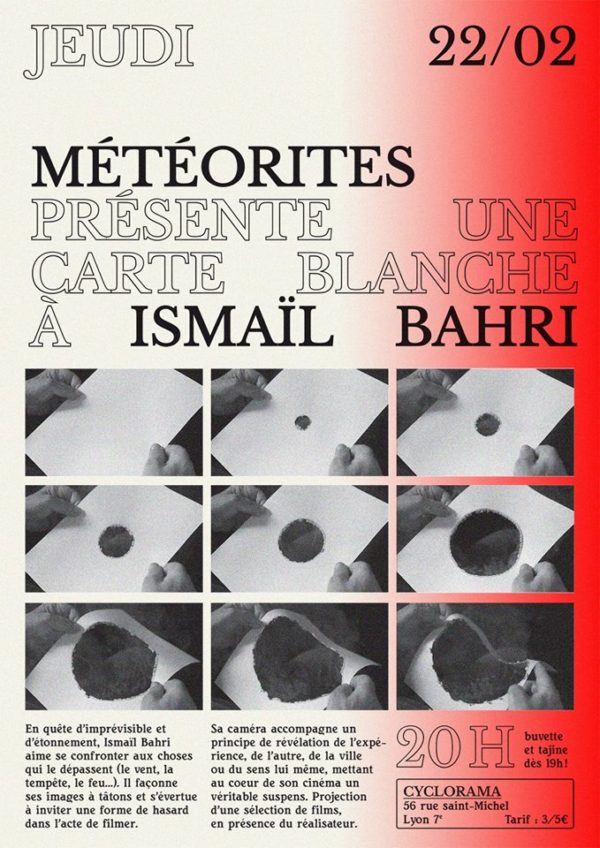 In Lyon, a carte blanche to Ismaïl Bahri
Only a few days after his last Lundi de Phantom at Khiasma, Ismail Bahri will be at Cyclorama on Thursday 22nd February. An evening organised by Météorites, a collective organising film screenings in Lyon. In the meantime, you can always listen to Ismaïl Bahri on r22 Tout-monde.
Le Grand Camouflage : at Le Fresnoy, a new installation by Ana Vaz, created in residence at Khiasma
From 10th February to 22nd April, le Fresnoy will display Ana Vaz's video installation Le Grand Camouflage (created over the course of her residency à Khiasma) as part of the exhition Océans : une vision de monde au rythme des vagues, curated by Steffanie Hessler and co-produced by TBA-21 Academy and Le Fresnoy – Studio National des Arts Contemporains.
Listen to the first two episodes of « The Voyage Out », a sonic film sonore by Ana Vaz and Nuno Da Luz (the second episode was co-produced by TBA-21)